New accommodation from 2023 at the Charlemagne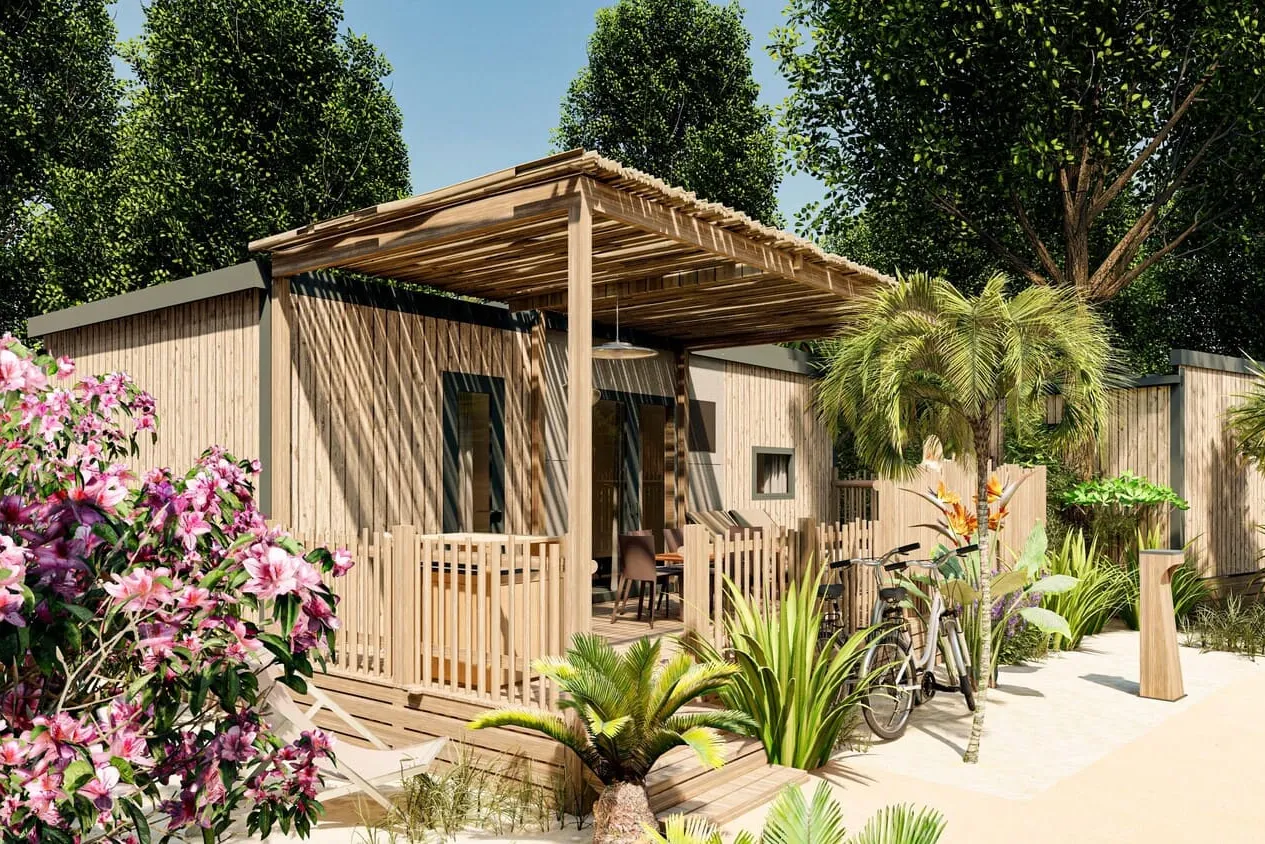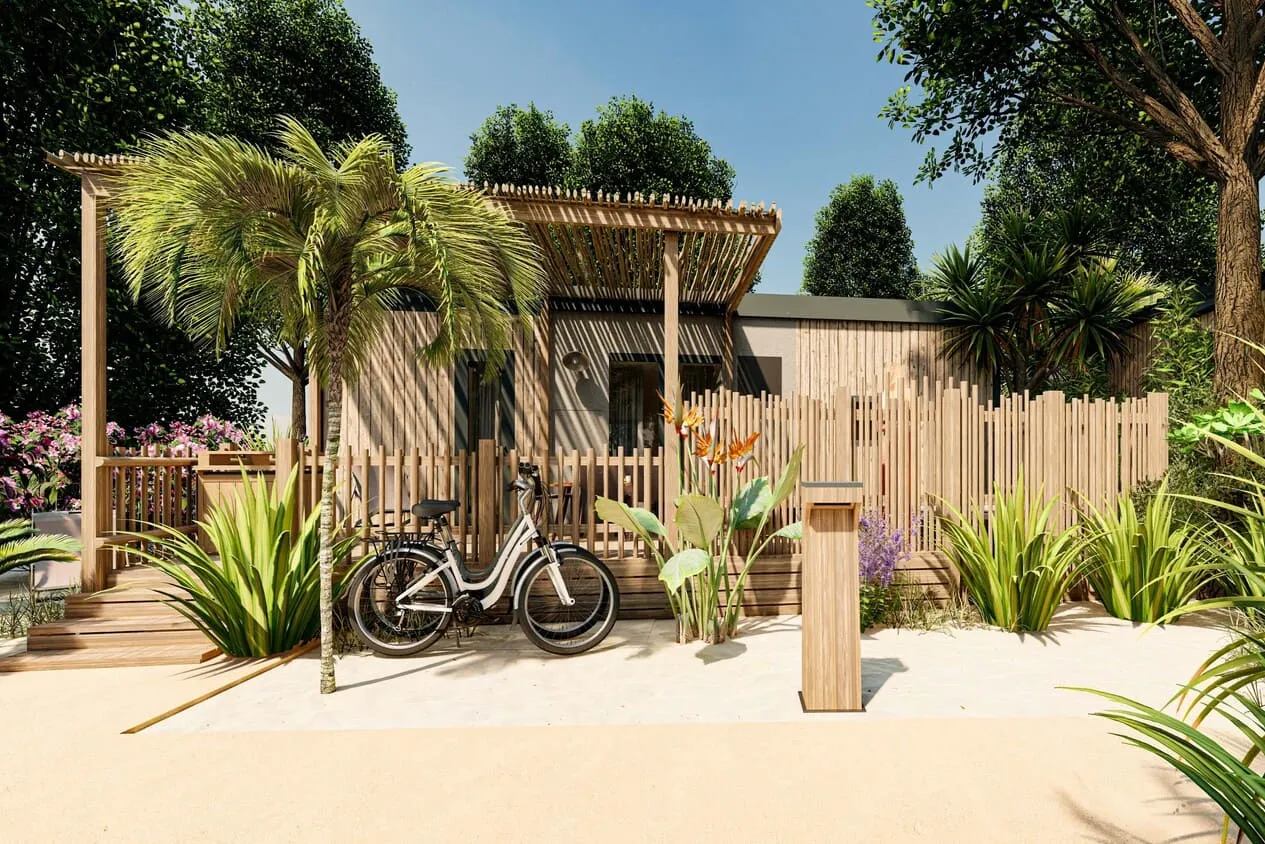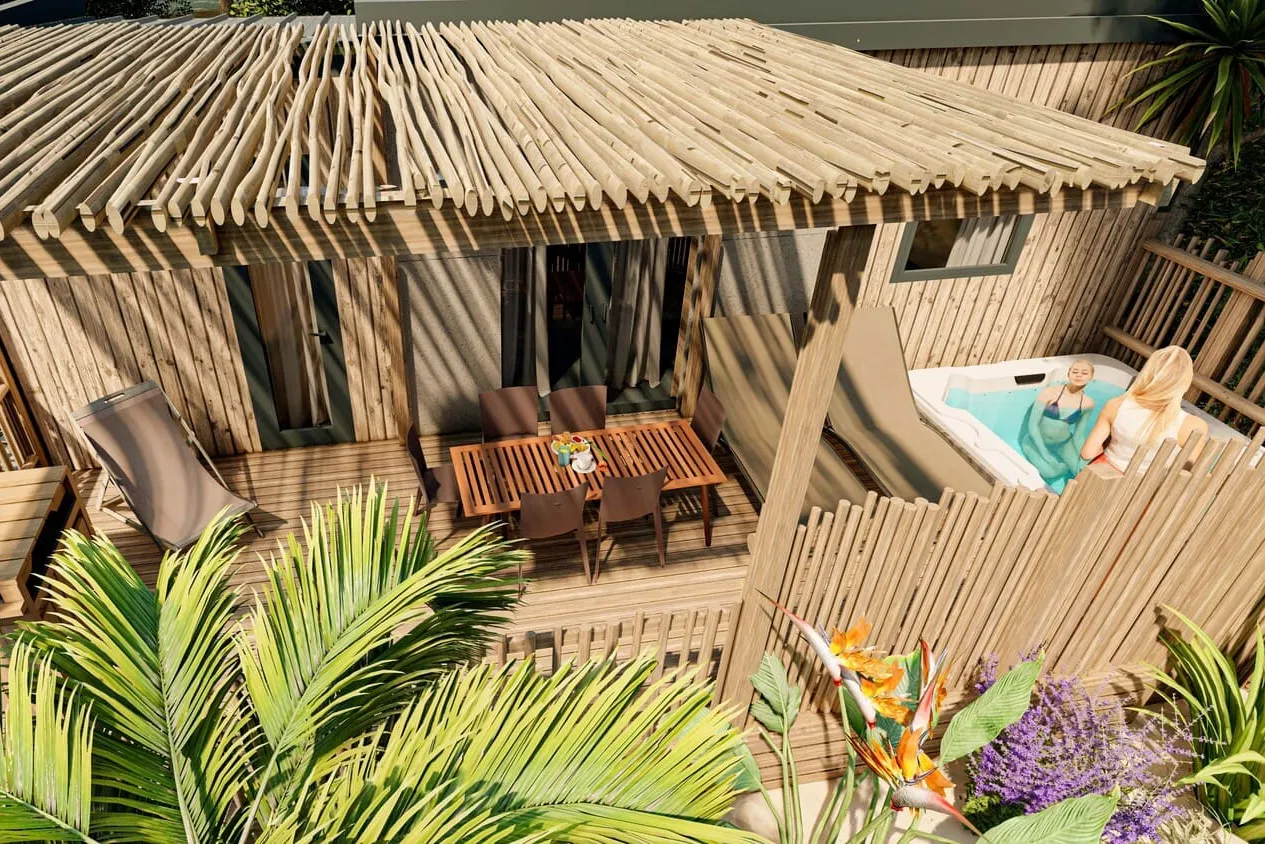 Stay in Charlemagne PRESTIGE 4 Persons 
At Les Méditerranées, the word "5-star" rhymes with prestige!
The Charlemagne campsite has added a new range, the PRESTIGE range. The new range includes new services: accommodation with a jacuzzi on the terrace, consisting of 2 bedrooms and 2 bathrooms for 4 people. In addition to its private whirlpool bath, the beautiful terrace also has a plancha, garden furniture, sunbeds and chiliennes. There is even private parking for bicycles, all in a brand new neighbourhood with a privileged setting.
Imagine an entirely pedestrian area, where cottages and Mediterranean-style vegetation rub shoulders. Ideally located, between the Bagnas nature reserve and the Charlemagne campsite's aquatic area. It will be your 100% successful holiday.
For a short break or for a longer, well-deserved holiday, go away with your family or friends... When you return from a bike ride, you can meet on the terrace for an aperitif, happiness is as simple as that in the Charlemagne PRESTIGE cottage!
A quiet area, offering the necessary privacy to relax, have fun, exchange ideas and meet up during the holidays.
The atmosphere of the area is intimate: reach your cosy nest by a private access, and begin the visit: behind a planted hedge, discover a terrace overhung by a eucalyptus shade, and just below a garden lounge decorated with sunbeds and chiliennes, in a lounge spirit, then the icing on the cake, out of sight, a whirlpool bath: Bubbles and more bubbles to relax ... don't think about anything else, close your eyes, breathe in, you're on holiday.
Continue your visit and discover the interior of the Charlemagne PRESTIGE 4 Persons: a modern and spacious living room with its fully equipped kitchen: dishwasher, kettle, toaster, Nespresso coffee machine. Because your comfort is our priority, the Charlemagne PRESTIGE offers 2 bedrooms and 2 private bathrooms, but also beds made on arrival and cleaning included.
Cottages SIGNATURE 4 Persons
The birth of a new district is always the beginning of a great adventure! In 2023, you will find cottages from the SIGNATURE range at Charlemagne. A unique range, with careful design and decoration, designed by Les Méditerranées. Television, WIFI, plancha, luxury bedding, bed and bathroom linen, beds made on arrival and cleaning included.
Located in a quiet pedestrian area, landscaped with Mediterranean scented plants, for your comfort! These 35m² air-conditioned cottages have 2 bedrooms, 2 bathrooms, 2 toilets (one separate), a terrace with garden furniture, sun loungers, two bathrooms with hairdryers and a kitchen equipped with a dishwasher, a Senseo coffee machine, a kettle and a toaster.
Not far from the beach, cross the Nouvelle Floride campsite and enjoy swimming to your heart's content!
You can enjoy this exceptional setting on a pitch that guarantees both privacy and tranquillity.
A holiday on the Mediterranean coast is the guarantee of an unforgettable holiday.
We are already looking forward to introducing you to these two new areas!