Towards sustainable development, respecting the coastline.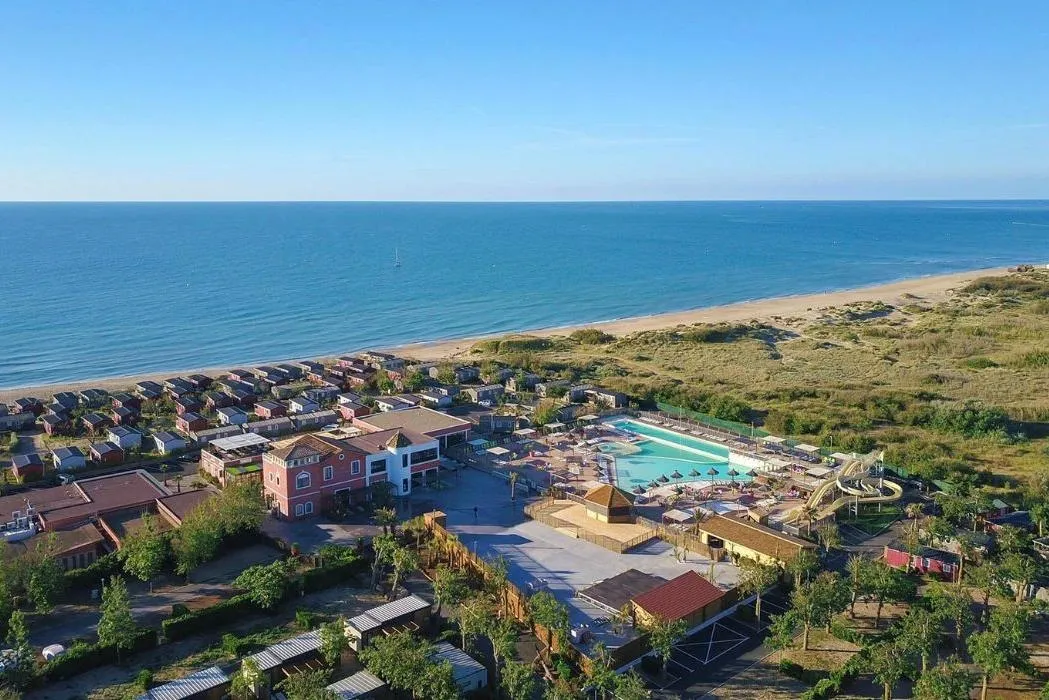 Campgsites must remain large green areas. Only 3 % of the 40 hectares in Les Méditerranées are actually built-up.
Preserving landscapes is taken into account consistently in all projects. This will is very much driven by our proximity to the Bagnas nature reserve, a listed site offering 600 hectares of protected wetlands, which are typical of the coastline.
The current challenge is to preserve the beach and its dune line: Les Méditerranées contributes to preserving this fragile natural area by ensuring the reconstruction of natural sand reserves, through the use of sand fences.
HOUSING  
Responsible purchasing
Among the many efforts made by Les Méditerranées in terms of sustainable development and in order to reduce the carbon footprint, accommodation is purchased from French manufacturers.
The choice of colours and materials used in the accommodation is based on how well it blends in with the landscape. It prevents our environment from visual pollution.
Environmental responsibility also involves a careful selection of the equipment in our accommodation. A great deal of work is also carried out here, particularly in the selection of easy-to-use and easy-care household equipment. As a result of this reduced product consumption and the ability to withstand successive rentals, the waste containers are not overloaded.
Our actions also focus on reducing plastic packaging for cleaning products through the use of refills. Eco-labelled maintenance procedures have been implemented on our three campsites. Thus, our teams use "ECOLABEL" certified "neutral" products for the laundry area and the final cleaning. These implemented measures are appreciated by all the staff, particularly by the accommodation department, which appreciates using products that are more respectful of their health and the environment.
Greenspaces
About 2500 trees and shrubs and about 1500 flowers are planted every year. In 2020, more than 1000 plant species, including a hundred palm trees, have been planted in the new water park at the Nouvelle Floride campsite. All the fertilisers used in Les Méditerranées come from organic farming and are composed of seafood or caffeine. In addition, in order to save money, we make a selection of Mediterranean plants that do not require a lot of water. When watering the flowerbeds is necessary, a drip irrigation system is switched on at night in order to limit evaporation. Finally, plant waste is crushed and reused as decorative mulch in the flowerbeds. This allows humidity to be maintained at the foot of the plants, thus limiting intensive watering. Furthermore, the decomposing plant waste is transformed into humus, which improves the soil and nourishes the plants.
EQUIPMENT & SERVICES
Reduce water & cleaning product use
The sanitary facilities are equipped with foamers, timed push-button taps and the toilets have a dual flush system. Each time the sanitary facilities are renovated, the materials are chosen for their ease of maintenance. In fact, they allow the use of PH neutral products, avoiding the use of corrosive and harmful products.
Limiting energy consumption
In terms of energy, LED light bulbs have been generalised throughout the park, including accommodation. For each bathroom renovation, the choice of spotlights with presence sensors was made quite naturally, to ensure more responsible energy consumption. We have also begun to replace our mechanical thermal tools with electric tools.
Reducing waste production
Reducing the environmental footprint also involves selective sorting: dedicated bins for three categories of waste are available. Sorting is encouraged on our 3 campsites and used battery collection bins are available in the 3 reception areas.
RAISING AWARENESS
Receptions
The use of printing paper and brochures in reception is limited in favor of our website and the use of the mobile application "TIPIZ", a real digital welcome booklet. Paper printing has been greatly reduced thanks to the digitisation of customer files and the implementation of the "fast check-in" system.
Travel
The development of environmentally friendly transport and public transport is one of our priorities. Thus, practical information on the nearest public transport is given at the reception desk, while on site, a bicycle rental service and charging stations for electric cars are available. Carpooling is actively promoted among our teams.
Restaurant et bar
Purchases have a direct impact on the way food is produced and on the preservation of biodiversity. In this sense, Les Méditerranées extends its recommendations to the 3 restaurants on site: Le Bistro, Le Charlemagne and Le Floride.
Our restaurants offer Mediterranean cuisine prepared with seasonal and local products, usually selected in local food networks.
On the menu : tielles, rouille de seiche à la sétoise, Stuffed squid or even prawn tails with sesame, oysters, paella... A selection of exclusively regional wines is also on offer.
Activities/animations
Finally, Les Méditerranées offers, through its activities and events, outings to raise environmental awareness: visit to the neighbouring nature reserve, guided boat trip on the Thau lagoon with a presentation of marine eco-systems...
Finally, Les Méditerranées offers, through its activities and events, outings to raise environmental awareness: visit to the neighbouring nature reserve, guided boat trip on the Thau lagoon with a presentation of marine eco-systems, guided tours of wine estates highlighting the importance of working the land and the vines...
The efforts of our 3 campsites do not end there. Les Méditerranées continues to reflect on ways to promote sustainable development and environmental protection.