Why stay at a 5-star campsite with a water park?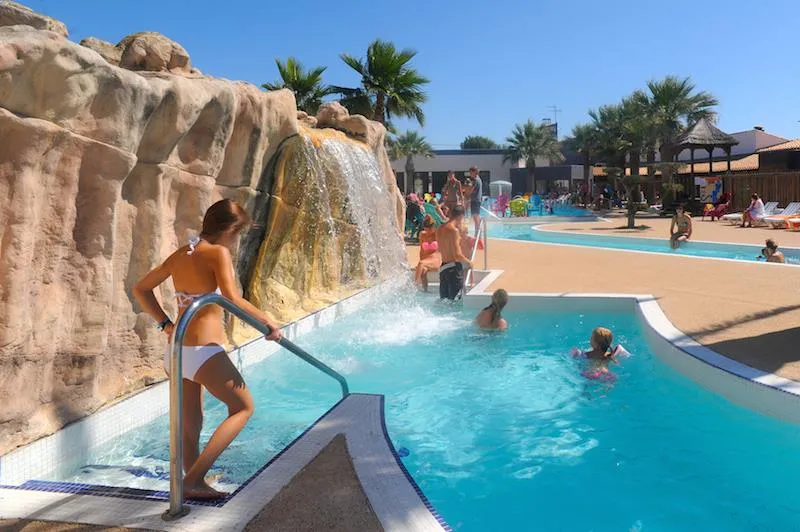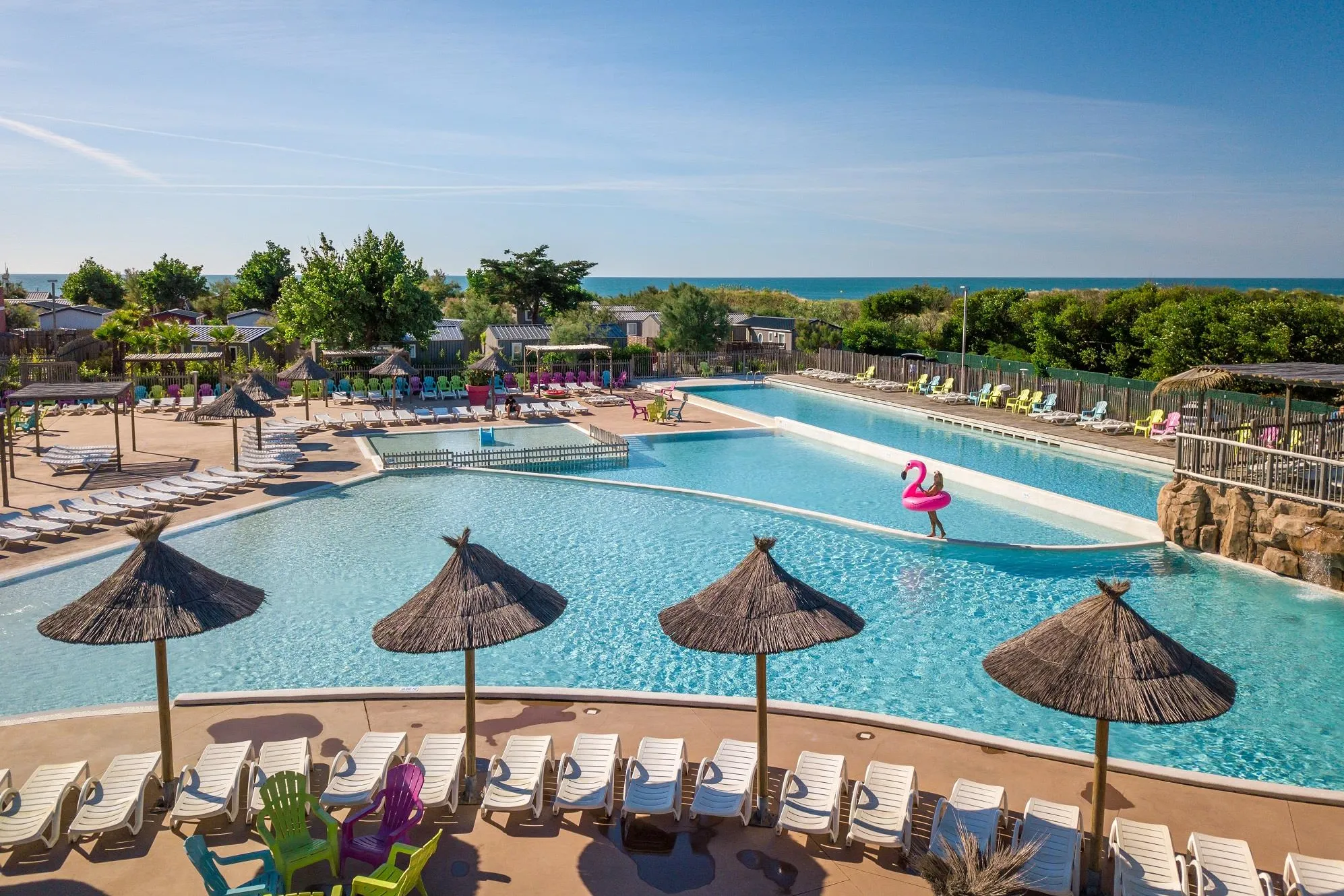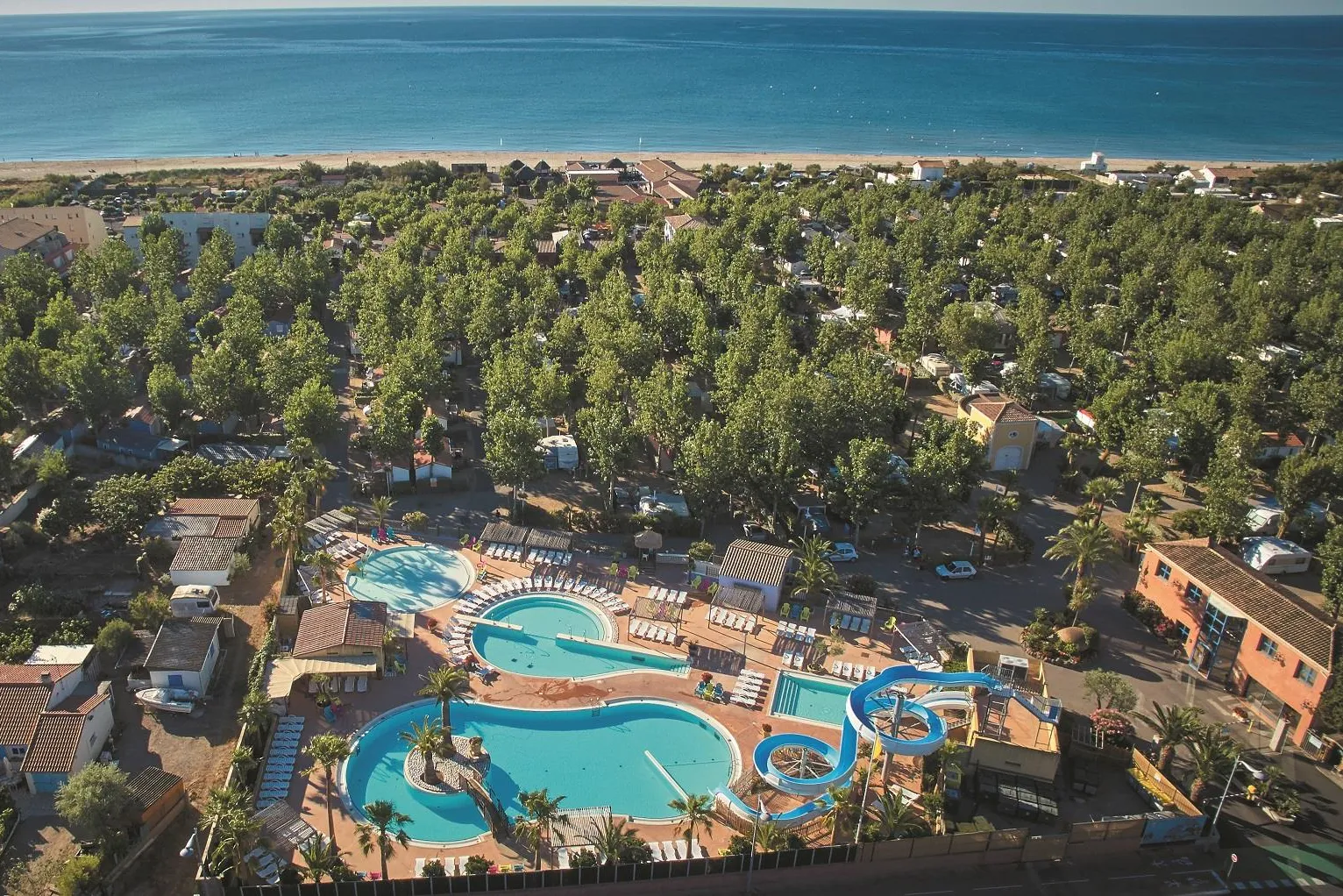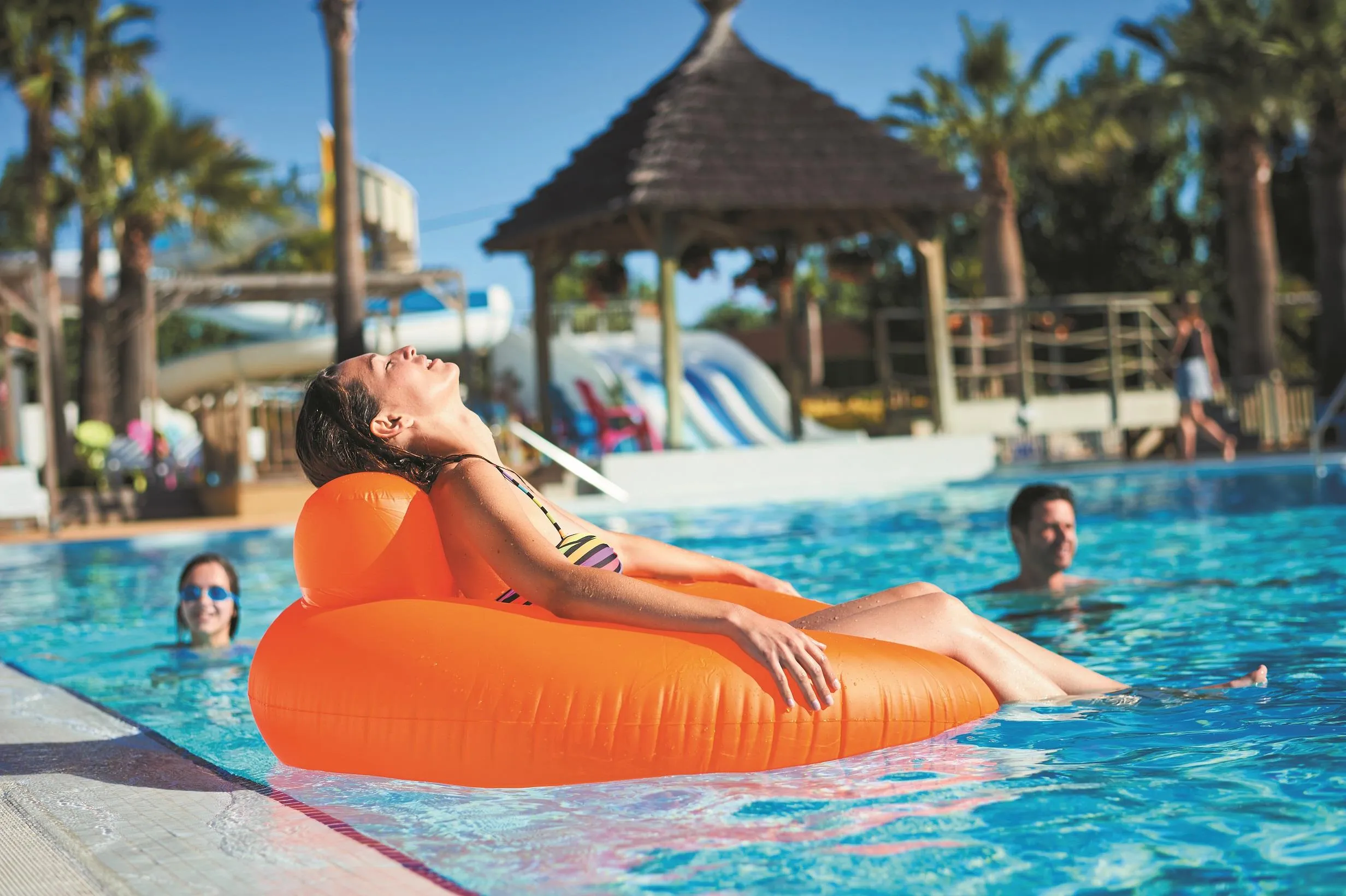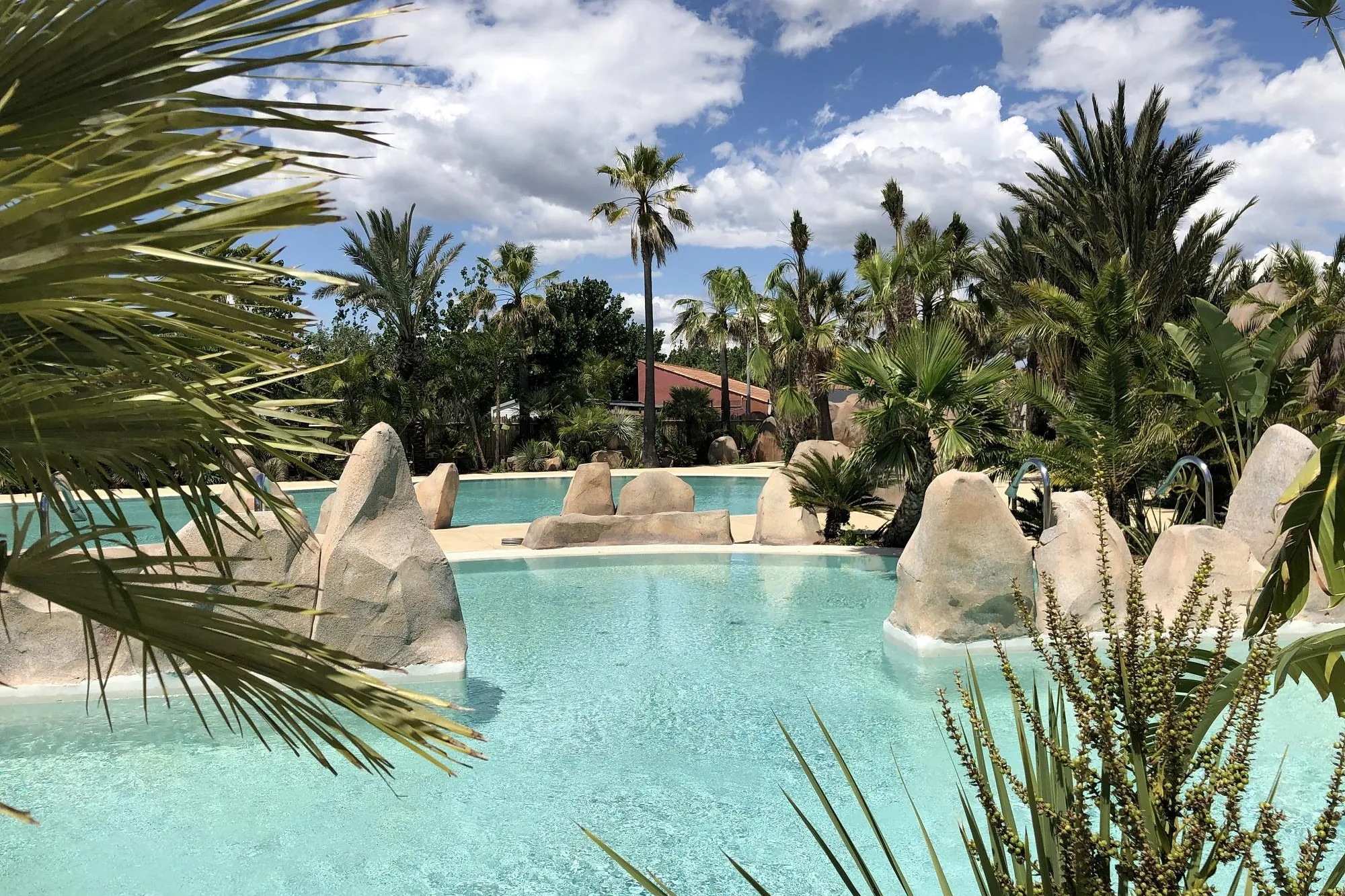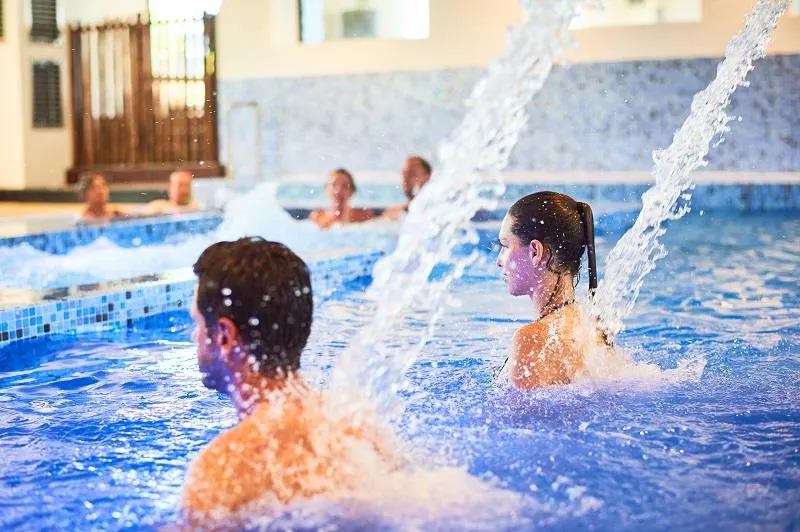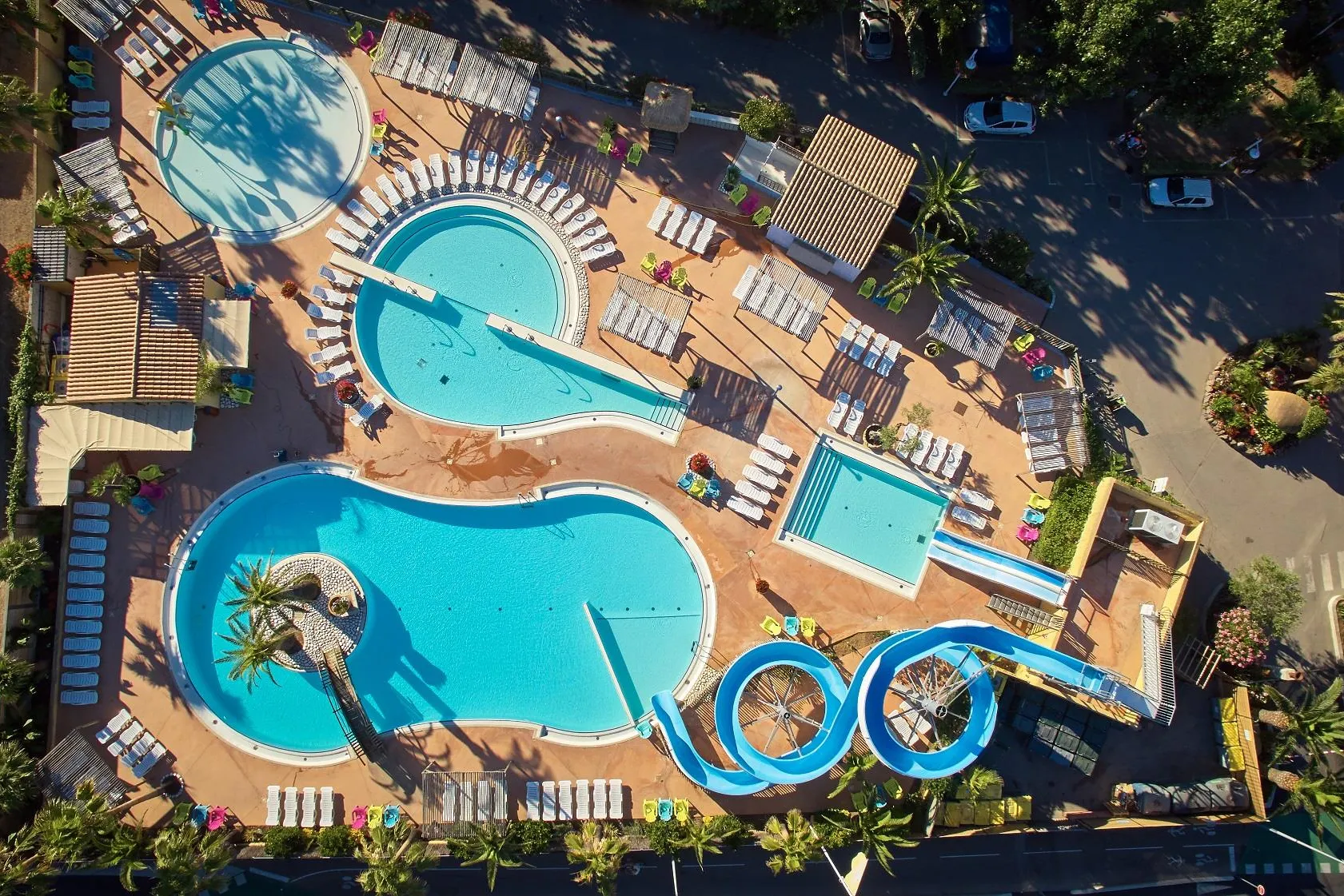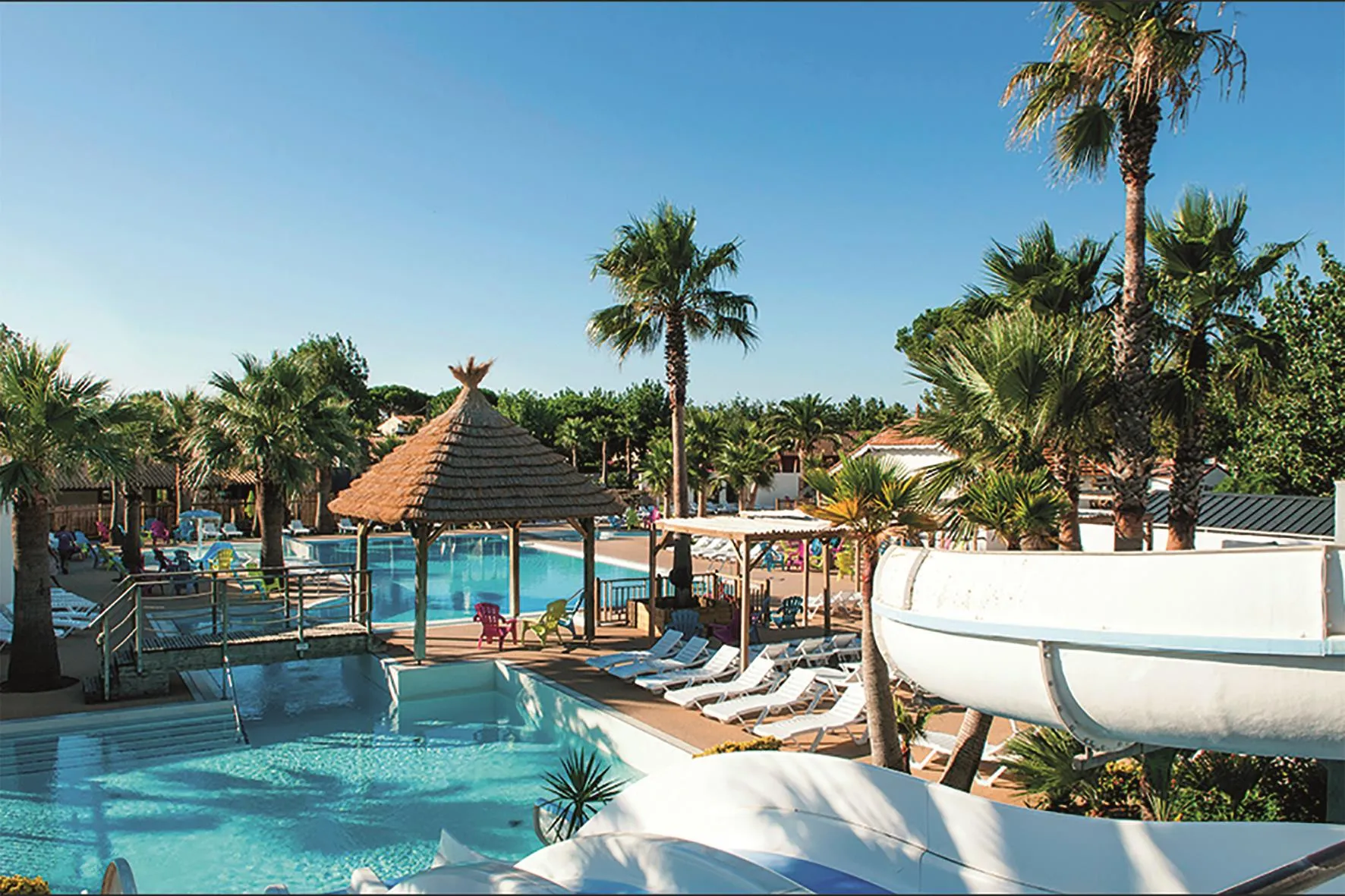 Camping holidays are popular with families and have been for years. Whether they are looking for an outdoor getaway or a relaxing holiday with a change of scenery, campers appreciate a comfortable holiday, preferably surrounded by nature. Who doesn't dream of escaping to a campsite in authentic and unspoilt surroundings, with the best possible facilities?

At Les Méditerranées, each of the 3 campsites prides itself on making sure your stay becomes an unforgettable experience for every member of the family. In terms of facilities, accommodation and entertainment, these 5-star campsites have an eye for detail. To top it all off, each of the Les Méditerranées campsites has a unique pool complex, combining the pleasure of swimming in its heated pools with the thrill that comes from sliding down its water slides.
The advantages of a 5-star campsite
Whether for a week in spring or several weeks during the summer, Les Méditerranées campsites welcome you to spend time to completely disconnent from the outside world, in harmony with nature while enjoying incomparable luxury. Whichever of the three 5-star Les Mediterranées campsites you choose: Charlemagne, Nouvelle Floride or Beach Garden, you have the guarantee that the facilities and services offered are of excellent quality.
But what makes a 5-star campsite as grand as some palaces? Let's take a look at the advantages of 5-star campsites with a water park, such as Les Méditerranées.
Accommodation: luxury in the midst of nature
While luxury was long associated with big hotels, Mediterranean campsites have reinvented the concept by offering a more authentic finesse, more in keeping with modern desires. Here, luxury is expressed through simplicity and harmony with nature, while maintaining comfort and quality of service.
Whether you prefer to stay in a tent, caravan or motorhome, the pitches in the 5-star campsites have a minimum size of 80 m². This area gives your children plenty of room to play under your supervision.

Do you need a roof over your head? Opt for elegant, spacious mobile homes. Designed like real homes with several bedrooms, they give you the space you need to enjoy unforgettable moments with your family. At Les Méditerranées, you can also stay in a Maison des Sables or a cosy cottage. The accommodation on Les Méditerranées campsites combines the exotic with comfort and is of a quality matching that of the best hotels.

The elegant design of the private bathroom, equipped with modern facilities guarantees optimal comfort. Italian-style showers, hanging toilets, quality taps... you will certainly appreciate these details that make all the difference. The sophistication is there, in the small details that make your stay even more enjoyable.
Services: ensuring maximum care
It starts from the moment you arrive: you are greeted by a welcoming, professional and multilingual team. Need information, a recommendation or a reservation? Do not hesitate to ask the staff at reception, they are there to make your life easier and your stay more enjoyable.

5-star campsites offer a wide range of catering services: mini-supermarkets, bars, bakeries and restaurants. Whether you are looking for fresh products, home-made local specialities or basic necessities, you will find everything you need without having to leave the campsite.
Entertainment: enjoy a full range of activities
Let's push open the doors to the entertainment team and dive into the dazzling world of leisure activities at Les Mediterranées 5-star campsites. Here, the entertainment is tailored to your needs and desires and those of your family for an unforgettable holiday.

To begin with, there is a wide range of different sports and leisure activities on offer. Whether you and your children like fitness, yoga, arts and crafts, aquagym or team sports, be tempted by professionally led activities. Dance classes, zumba, basketbal, aquagym, yoga, sportscompetitions, activities are organised throughout the day: every day there is the chance to try a different thing, learn new skills and share fun moments with other holidayguests.

As night falls, the Mediterranean 5-star campsites light up for unforgettable evenings. Forget the traditional aperitif around the camping table by the tent or your mobile home and be tempted by theme nights, dance evenings, open-air concerts... Every evening, the chance to come together around a drink, a dance or some music.

The 5-star Les Méditerranées campsites welcome you for holidays combining comfort, conviviality and luxury. Every moment spent at Charlemagne, Beach Garden or Nouvelle Floride is a guarantee of unforgettable memories in the heart of a luxurious setting.
The advantages of a 5-star campsite with water park
Imagine soaking up the Mediterranean sun, lounging on a deckchair, while listening to the distant laughter of your children having fun on the slides in the water park at your campsite at Les Méditerranées on the Mediterranean coast. Doesn't that give a wonderful feeling? Whichever campsite you choose, the campsite's water parks will never cease to amaze you! At Charlemagne, Nouvelle Floride or Beach Garden, the gates to a wonderful world are wide open, for funfilled days for young and old alike!
Fun, excitement and thrills for all the family
Les Méditerranées campsites, with their water parks, are true aquatic marvels, with different facilities for all ages. Whether it's the five-lane slide for thrill seekers parents and children, waterslides full of bends, a mini-slide for the little ones or the indoor heated pools for those swimmers of all ages and abilities, every moment is an opportunity to have fun and relax. Toddlers can splash in the children's pool and you can enjoy the whirlpool baths. The spa with jacuzzi offers an oasis of calm for those who want to relax, while the turquoise lagoon in Nouvelle Floride and the 33-metre swimming lane in the Beach Garden make you feel like you are on holiday in an exotic destination. And why not end the day with a game of volleyball in the pool? At Les Méditerranées campsites, on the Mediterranean coast, paradise is on your doorstep.
The luxury of accessibility
What could be more pleasant than having to walk just a few metres from your accommodation to a water park? When you choose to stay at one of Les Méditerranées' Mediterranean campsites, the opportunity for a new activity is just a stone's throw away. No need to pack a bag full of swimmingear, activities and food for a day at the pool; everything you need for an unforgettable day is within reach. In an instant, you go from the calm of your private patio to the fun atmosphere at the water park.
A wellness centre on your campsite
What do you think of a wellness centre on your campsite? Les Méditerranées 5-star campsites go beyond the simple pleasure of swimming. The campsites' wellness facilities offer spaces for relaxation and well-being. Close your eyes and imagine yourself lying in the water being massaged by water jets and bubbles. For an ultimate relaxation session, follow this with a swim in the heated pool, to finish of by lounging in the sun on a comfortable lounger and possibly a good book in your hand. And if you feel like it, you can treat yourself to a massage for a complete escape and put the stresses of everyday life on hold. You are not dreaming, Les Méditerranées is paradise! At each campsite, the emphasis is both on the quality of the facilities in, but also the environment around, the water. From the palmtreesto the exotic lagoons, a stay at a 5-star Mediterranean campsite with water park guarantees a holiday in a relaxing environment, away from the stress of everyday life. Isn't that the true meaning of the word "holiday"?

Les Méditerranées 5-star campsites combine luxury facilities, the quality of its water parks for both young and old, with the comfort of first-class accommodation.
Staying in a 5-star campsite on the Mediterranean coast with a water park guarantees you excellent restaurants, quality accommodation and access to a water park that will never cease to amaze you. So what are you waiting for to take a dip in Les Méditerranées campsites to create unforgettable memories with your children? The Charlemagne, Nouvelle-Floride and Beach Garden campsites look forward to welcoming you!